Halloween Ideas
Halloween Ideas
Once again, Halloween has fallen upon us, so it's time to brush those cobwebs away (or not!) and take a look at some of these Halloween Ideas.


Halloween Ideas – Recipes…
When it comes to food, there is no shortage of recipes on the Internet, particularly when it comes to Halloween ideas. There can be quick and easy recipes to follow or ones that need a little more time. But regardless of what you're looking for, these recipes were designed for sharing.
---
1) Pumpkin Spice Cheesecake Shooters

| tidymom.net

www.tidymom.net/2015/pumpkin-spice-cheesecake-shooters
These Pumpkin Spice Cheesecake Shooters look delicious. What's more, they're non-cook, so just assemble, chill and then […] »
---

www.parentpretty.com/pumpkin-crunch-cake
Believe it or not, the recipe for this pumpkin crunch originated from a candle supplier. Come and see why it's been a hit, year after year […] »
---
3) 10 Scary Halloween Food Ideas…

| momjunction.com

www.momjunction.com/articles/scary-halloween-food-ideas-kids-will-love
Here are 10, quick and easy scary Halloween food ideas your kids will love. They're sure to brighten up the […] »
---

www.familyfragulfun.com/kids-halloween-party-ideas

These bright and colourful cupcakes are sure to capture your little ones eyes at any Halloween party. For icing tips, be sure to […] »
---

www.craftymorning.com/creative-spiderweb-cupcake-design
Although these instructions don't tell you how to make cupcakes, it does show how to create this great looking web […] »
---

omgchocolatedesserts.com/white-chocolate-mummy-truffles

White Chocolate Mummy Truffles or should that be white chocolate truffle for Mummy? I'll let you decide on that one […] »
---

www.iheartnaptime.net/pumpkin-bar-recipe
If like me you're in full supply of pumpkins this year, then why not give this moist and slightly spicy cake bar a go? It's […] »
---

www.momentswithmandi.com/chocolate-covered-banana…
If you're ever going to try tricking your little ones into eating fruit by pretending it's something else, then you might just get away […] »
---
9) Frankenstein Marshmellow Pops

| thenerdswife.com

www.thenerdswife.com/easy-frankenstein-marshmellow...
These Frankenstein Marshmellow pops are so easy to make, and they're bound to brighten up the party table […] »
---
10) 20 Spooky But Simple Halloween Treats

| mommyclub.com

www.supermommyclub.com/halloween-treats
And just when you think that's it, here's another twenty ideas for you, in case you needed some more! What will you try when […] »
---
You May Also Like
We Love Sharing
Feeling Inspired? – If you liked these Halloween Ideas for the kitchen, then why not take a look at these other links by clicking on any of the images above? From Left to right we have…
Coconut Biscuits – These Coconut biscuits are quick and easy to make. What's more, they can be batched cooked so you can more during the week.
Raspberry And White Chocolate Brownies – These really are delicious and taste even better when made with home grown raspberries.
French Onion Soup – The onions are ready and that can only mean one thing in our house, French Onion Soup. This traditional recipe was written by Joe Blocks and is part of their Linky Party, #foodpornthursdays
Blackberry and Apple Crumble – With plenty of free blackberries around, this quick and easy pudding is sure to come up trumps. View full recipe details by clicking on the image.
Share this Page
If you've made these recipes, and enjoyed them, why not share this page or tell us how they turned out by leaving a comment in the box below?
Alternatively, you could press the Twitter button Tweet
This list of useful Halloween Ideas was also shared on the Linky Party #foodpornthursdays over at cuddlefairy.com and domesticatedmomster.com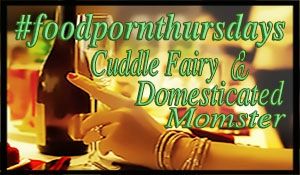 This list of useful Halloween Ideas was also shared on the Linky Party #brilliantblogpost over at HonestMum.com
This post was also shared on the following Linky Parties…
Tasty Tuesdays (Honest Mum) | Tasty Tuesdays (Creative K Kids) | Twinkly Tuesday |