Who is Father Christmas?
Who is Father Christmas?
Who is Father Christmas? – I would so love to meet him. According to my son, he's the one that provides all the Christmas presents, and they're all free.
This week, our funny quote comes after a conversation we had in the car, on the way home from a pre-Christmas shopping trip. But first, let me explain…
I'm sure you'll agree with me that no two people the same, we are all individuals. We all learn to be independent, from a very early age, and if you've more than one child, you'll know exactly where I'm coming from. In fact, we noticed our boys independence, developing from the age of nine months.
When Joshua had finished with his bottles and accessories etc, we kept them 'just in case'. After nine months of feeding, we moved Harrison onto the bottle and he just didn't want to know. However, after a week or so of research, trials and errors, he finally settled onto a Nuk Bottle.
Since then, they have grown up to be the little independent boys they are today, from eating different things, wearing different things and enjoying different activities. And when it comes to outdoor activities, they are both so different to how they approach things. For example…
As we discovered on our holiday to Cornwall, when it came to bodyboarding, Joshua was straight in the water, on his bodyboard and away he went. Harrison, on the other hand, sat on his bodyboard, at the edge of the water, then went back with Mum, and made sandcastles for the rest of the day.
But when it comes to things like bicycles and scooters, then the roles reverse. Harrison will get straight on one, fall off, get up, and have another go. Joshua, on the other hand, will have a go, fall off, and won't return for a few months.
Whilst we cracked it with his scooter, his bike stayed in the shed until eventually, it was outgrown. Although it hasn't gone to waste, it was disappointing to see it sitting in a corner, redundant.
Determined not to give up, this weekend, we went to Toys R Us just to see if we could persuade him to take a look at the bikes. Whilst I popped into Homebase, my wife took the boys into the shop and when I came back, I found Joshua sitting on a bike, having a go at cycling a very short distance, down the aisle.
Both my wife and I were pleased that he had finally wanted to get back on a bike again, however, we did then think back to the day he got his first bike and the same sort of promises were left, echoing in our ears.
Whilst we were happy, my wife and I still weren't convinced. We needed to make sure this wasn't just a case of liking it and wanting it, only for it sit in a corner, waiting to be outgrown so his brother can inherit it. Nope, we needed to make sure. So on the way home, we decided to ask a few questions…
"So Joshua, how did you feel on the bike."

"Yes, fine."

"Did you feel confident? Do you think you can ride it on your own?"

"Um, yes."
It was the way that Joshua said, "Um, yes" that made my wife and I look at each other and think twice about whether or not we should buy it for Christmas. So I continued…
"Joshua, bikes cost a lot of money. They are too expensive to use once and then leave in a corner."

"But Dad, you don't have to buy it. I want it for Christmas."

Both, my wife and I, looked a little puzzled then I asked him to explain himself. "What do you mean?"

"Santa is going to bring it, it's free, remember?"
So, who is Father Christmas? I for one would love to meet him, especially if he's going to give my son a bike, for free.
---
You May Also Like
We Love Sharing
Read more funny quotes – If you liked this quote, then why not take a look at these other links by clicking on any of the images above? From Left to right we have…
Look, Dad, I've Just Seen A Chough – Following a recent holiday to Cornwall, the boys are on the hunt for a Cornish Chough, in our hometown, 250 Miles away.
The Original Funny Quotes Page – Come and read some funny quotes from the original 'Funny Children Quotes' page, straight from the archives.
Want to buy a 6v Camper Van? – If I had the money, I would have brought this Camper Van for myself Harrison, but alas! Still, that doesn't mean you can't. Why not take a look?
Please Share This Post
If your child has said anything funny, I would love to read about it in the comments box below. Or, better still, why not come and join the party?
Alternatively, you could press the Twitter button – Tweet
This post was shared via #ftmob on littleheartsbiglove.co.uk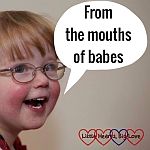 This Post was also shared on…
Polite Notice To Linky Hosts – I only add two badges to the bottom of each page. However, I will always add a link to your page and if your badge does not appear on the right-hand sidebar, it will appear on our Linky Guide Post. Thank you.
Do you host a Linky Party? – If you host a Linky Party and it's not on our list, please follow the instructions at the bottom of the post and Will be happy to add your Linky Party.
---